Who or What is Vendia?
Let's just Google that…

Vendia is… a new type of wood product used in wooden boat building.
This product combines the excellent features of traditional solid planks and marine plywood but our Vendia's main raw material is oak.
Vendia is… a genus of oval-shaped Ediacaran fossils.
Vendia was… a Danish ship, a steam merchant vessel that was sunk after being hit by a German U boat in World War 2.
Vendia is… available for charter!

So to us, Vendia is in fact a collective of all the above descriptions. Our Vendia is an old, wooden Danish ship built during World War 2 but thankfully, this preserved gem is still afloat (thanks to us!) and below is her story…

Vendia-Fishing
The History of The Good Ship Vendia
Vendia was built in 1943 at the Nipper Boatyard, Skagen, Denmark. She was built for the North Sea, a solid and sturdy fishing boat made out of 2.5" oak planks with sawn oak frames. Vendia, fishing boat number S300, is a gaff-rigged ketch, 55ft long, 15.1ft wide, has a draft of 8 ft and a displacement of 65 tonnes. With these dimensions, she was most definitely built to weather any storm.

For nearly 30 years, Vendia worked her trade herring fishing in the North Sea. She was then decommissioned in 1973 and underwent some major renovations. The ship was rebuilt with her fish holds being converted into accommodation and alterations made to her wheelhouse. A new engine was installed and additional sails were hanked on giving her a total sail area of 220 sq metres. With the mainsail, jib, spanker, mizzen and top sails, Vendia was ready to sail the world's oceans.

Since 1982, Vendia has sailed the seas with young crew aboard. These young people were part of a Danish programme put together by Den Maritime Base, Denmark. Vendia was being utilized as a social educational project ship for rehabilitating juvenile delinquents. She therefore operated as a sea school for young people who needed a helping hand to change their start in life.

Over the years, the Vendia helped many young people break out of cycles of crime and delinquency and provided the students with a sense of self esteem to ensure their future personal, educational and professional success.

Unfortunately, Vendia was then replaced with another project vessel and sadly she quickly fell into a very bad state of disrepair.

In March 2016, Vendia was left on her anchor in Tyrrell Bay, Carriacou, West Indies. When we sailed by her we both thought "… Boy, what a mighty fine ship. She's obviously in need of a lot of hard work and buckets of love but wow…" A few weeks later, out of the blue, the new "Vendia Project" was offered to us – the one to rescue her….

Over the next year an a half we have saved this old lady with…

350 feet of new 2 inch planking
Over 3000 new fastenings
Replacement of stem and cap rail sections
New hydrualic steering
New engine
Refurbished rig
Modified propeller
Resighted windlass
Replaced the bitts, knightheads, 11 frames, and a beam shelf
2 new knees and lots of scarfed beam ends
New head (wc)
New LED lighting
Lots of varnish
Lots of paint
Even more blood sweat and tears!
It's been a major journey but now the tide has turned and we have Vendia functional, working and eager to enter the next phase of her long history – taking you sailing!!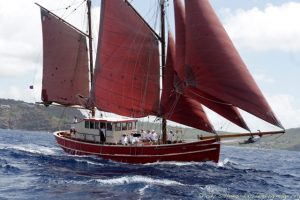 Target State: All States
Target City : Port Louis Marina, St. George's, Grenada
Last Update : Aug 24, 2018
Number of Views: 47
Item Owner : Dave
Contact Email:
Contact Phone: +1 473-416-6661